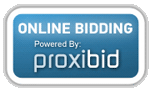 ONLINE AUCTIONS
Joe Bradley Auctioneers is now online with Proxybid. Bid online for many different items in our estate sales and liquidations.
ONLINE NOW - Bakery Business Equipment Liquidation Auction
Equipment Including but not limited to 2) Hobart 140 qt. Mixers, 1) ABS 200lb Spiral Mixer, 1) Empire 200lb Spiral Mixer, Multiple Stainless Steel Racks, Multiple 80qt. Mixing bowls on dollies, 80qt Mixing hooks, 3) Butcher Block Prep Tables, Stainless Steel Worktables, over 80 Aluminum Sheet Pans, 12) Bakers Racks, 3) Stainless Steel Sinks, 6) Rolling Product Bins, Multiple Commercial Bread Slicer, 2) Walkin Proofers, 2) Large Conveyor Ovens, 3) Dough Press machines, Pallet Racking, Large Tool Box, Lots of Misc. Tools 2) etc. Office Equipment; Computers, Desks, Filing Cabinets, Printers, Copiers, White Board & Office Supplies etc. Click here for all the info.
ONLINE NOW - General Consignments, 2012 Ford Fusion & Equipment
Items Including but not limited to; 2012 Ford Fusion, Automotive Speakers and Stereo equip., Large Bird Cage, Restaurant Equip. Tattoo tables, Pet Ramp, Karaoke machine, Automotive sound Amplifiers, Collectibles Tins, Tribal masks, Tools, ETC. Click here for all the info.