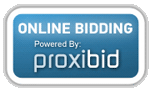 ONLINE AUCTIONS
Joe Bradley Auctioneers is now online with Proxybid. Bid online for many different items in our estate sales and liquidations.
ONLINE NOW - BSA DONATION IRWIN CITATION 39 SLOOP WITH 30HP YANMAR DIESEL
1980 Irwin Citation 39 Sloop with 30hp Yanmar Diesel engine, This Vessel is being offered on behalf of the Boy Scouts of America, San Diego Imperial Council Boat Donation program. She is an Irwin Citation 39 Sloop with single 30hp Yanmar Diesel engine, she has been maintained well for a boat of the vintage, Hull was last painted 2016, she was last surveyed in 2005, current dive report will be available, the Interior cabinets and walking areas are in good condition. Click here for all the info.
ONLINE NOW - BSA DONATIONS Boats, Canoes & Accessories
1980 Bayliner Ciera 2455 boat with trailer, Boat & trailer with Lehman Power motor, John Deere utility vehicle, Sea Ray 250 boat with Trail Rite trailer, 12' West Marine kayak , 17' Smoker Craft aluminum canoe , 12' Cobra Tandem kayak, Holder14 Hobie Cat with Highlander trailer, 17' Easy Rider15', assorted sizes aluminum canoes, Fishing rods with reels, 16.5' Catamaran, Apollo tool kit , 11' wood boat, assorted items: Pump, flares, rope, Bose speaker, bulbs, flashlights, Hibdon glasses, retrieval magnet, 8' Great Lakes Boat Building Co wood boats with oars , 16' Seda Canoeing Wanderer with 2 oars, 10' aluminum dinghy with oars, mast, propel pedals and accessories/ items,15' Grumman aluminum canoe with 2 oars, 14' Holder sailboat, 17.5' LOA boat trailer, Boat anchors and bumpers, 15.5' Pamlico Excel kayak for two with oar, 3 assorted dolly's, Powerift, Nakoa, etc assorted parts/ items, Kayak trailer, etc. Click here for all the info.