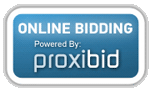 ONLINE AUCTIONS
Joe Bradley Auctioneers is now online with Proxybid. Bid online for many different items in our estate sales and liquidations.
ONLINE NOW - The Last Coat Car Care Products Auction
This Auction is being conducted to satisfy the Lien for Storage on 1000's of The Last Coat New Car Care products. Including but not limited to: Double tap Gun Oil, 16 oz sprayer triggers, Surface Protectant, New, Blue Wash Mitts, Bare Slate Clay Mitts, Micro Fiber Cloth towel packs 15" x 15", Car soap, Cera Trim, GO2 waterless wash, Black Ice Ceramic Coating, Detail kits, Deep Ice Ceramic Coating, Cera Tex Ultra-Hydrophobic Textile & Fabric Protectant, Beyond Clean professional strength interior cleaner, The Last Coat AMP, Last Coat Iron Off, Last Coat ClearSR, Planet Halo Hand Sanitizer 80% alcohol, Blue thick sponges, Microfiber Long Pile Cloth. Click here for all the info.
ONLINE NOW - Piret Munger Estate Jewelry & Collectables Auction
Piret Munger Lives in San Diego Ca. She and her husband George moved here in 1974, They started the Piret's Chain of Fine dining restaurants in the 70's & 80's, the Piret's also wrote a Best Seller's cookbook that can still be bought on Amazon. This Auctions are full of their Collectable, ARTWORK & ANTIQUITIES, Fine & Custom Handmade Jewelry, Collectable Canes, Jeanne- Claude The Gates Womans watch Stamped 14k, Women's ring size 7, Comoy's of London umbrella stand, Van Dell screws back earrings, Stamped 14k, size 10 ring, much more. Click here for all the info.
ONLINE NOW - BSA Donation, Tools, & Personal Property Auction
BSA Donation, 2014 Yamaha Waverunner, also including but not limited to, ELECTRONICS, AUDIO SPEAKERS, TOOLS, ETC. MAJORITY OF ITEMS IN THIS AUCTION CAME FROM POLICE IMPOUNDED. Click here for all the info.