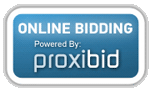 ONLINE AUCTIONS
Joe Bradley Auctioneers is now online with Proxybid. Bid online for many different items in our estate sales and liquidations.
SHORT NOTICE Smashburger & Subway REST EQUIP.
COMPLETE RESTAURANT ONSITE DOWNTOWN SAN DIEGO - DELFIELD,UNN,NEMCO,ROUNDUP,FRYMASTER,GARLAND,KOLDPAK, BISTRO TABLES & CHAIRS,BAR STOOLS,WALKIN,HOOD,WIRERACKS, WORKTABLES,PREP STATIONS,SINKS,FRYER. Click here for all the info.
ONLINE NOW - Servpro Company Machinery/Tools & Households Items
ServPro Van,Trailers, Forklift, Yamaha VXR & Kawasaki ST750 Jet skies, Industrial Carpet Cleaning Machinery, Tools, Household items, Pallet Racks, Rugs, Furniture, Sporting Goods and much more! Click here for all the info.
ONLINE NOW - PRIORITY MOVING VAULTS & RANCHO SANTE FE ESTATE
TAXIDERMY - ELK,WARTHOG,ANTELOPE,PIG, OUTDOOR SPORT EQUIP,COMPOUND BOWS,FISHING REELS,SCUBA GEAR, MEXICAN POTTERY,OUTDOOR PATIO FURNITURE,GUN CASES, BAR STOOLS, LEATHER CORNER CHAIRS, AND MUCH MORE! Click here for all the info.