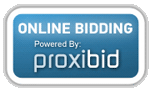 ONLINE AUCTIONS
Joe Bradley Auctioneers is now online with Proxybid. Bid online for many different items in our estate sales and liquidations.
ONLINE NOW - Police Dept. Abandoned Tools & Equipment
Items in this auction are from Police agency impound depts. All items are sold as is and we have no history as too there actual use. Auction including but not limited too: Sound, Stage & Lighting equipment, Automotive: Wheels & Tires, Tools, Audio Amplifiers, Car Stereo's, Speaker boxes, Misc. Automotive parts, Floor jacks, Gas Cans, 100's of phone covers, screen protectors, Military Clothing, Boots, Camo Gear, Mongoose XR-75 bicycle, Chargers Football Jerseys, over 80 assorted DVDs, New and Used clothing, Costume jewelry, Assorted XBOX games Click here for all the info.
ONLINE NOW - BSA DONATED BOATS, TRAILERS & CAMPING COTS
Sailboat with Karakan trailer, Prindle 16' Catamaran with trailer, Hallett Speed boat with Custom Trailer, Laser Sail boat with trailer, Rocna 33lb Anchor, Composite Rudder 76" long, Dish Tailgater Satellite antenna with receiver, Walker Bay Rib Genesis 310, Old Town Canoe Discovery 133K, Camping Cots. Click here for all the info.
ONLINE NOW - 1981 45' Hardin Ketch Sailboat - BSA Donation
1981 Hardin 45' Ketch, the boat is currently in the water at slip in San Diego, Ca. 92101 It needs a major restoration, motor is out of the boat, it is a 65hp Lehman 4D220 diesel engine, additional motors and parts will be included. Hardin's have a lot of teak including the decks and as with any boat the wood requires maintenance and two hatch covers need to be reworked, Vessel has monthly maintenance performed and no issues with hull have been reported, hull has been painted with Awlgrip LP and the bottom done with an epoxy bottom paint, Zinc has been replaced as needed. The boat is very sound with no hull or deck leaks. The sails are in good shape and only need one or two small seams restitched - the sail cloth is in good condition. Click here for all the info.