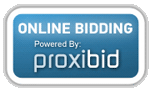 ONLINE AUCTIONS
Joe Bradley Auctioneers is now online with Proxybid. Bid online for many different items in our estate sales and liquidations.
ONLINE NOW - RC TRUCKS, BOATS, TANKS, TOOLS & HARDWARE
RC Trucks, Boats, Tanks, Tools & Hardware. Including but not limited to: Kong Head Monster Truck, Semi truck, 3 axle RC car semi flat bed trailer, 48" long Battling Tank, Toyota truck, 18th Century Longboat kit, HDRC Hunters 2.4 GHz R/C Axis Gyro Quadcopter, R/C Ford GT car, Assorted tools ,22" Metal, swing arm, multi joint desk lamp, Smithsonian Jet-Works. Model of Jet Engine, Cummins Rotary Barrel Pump, Aptex #30 Modular Workholder, DJI Phantom Quadcopter drone model PV331, DJI model RE700 remote, unknown drone, Aerosky control remote, Vintage Russian soldiers hat cap visor , EJWox air filtration 400 model QT9600, Lafayette 99-7134WX No 694320 microscope & NBL Japan, Dremel Precision Tooling & accessories, Miniature Table & Scroll saws, Sanders / Polishers, Modeling paint, Replacement RC parts, Jorgensen bar clamps AND MUCH MORE! MORE ITEMS. Click here for all the info.